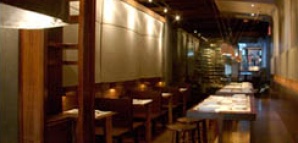 There aren't too many restaurants that are:
1) new
2) hip
3) surefire impress-a-date material; and
4) under the radar.
Usually a combination of the first three guarantees the last is impossible.
Well, around the corner from PR-machine
Bette
lies PR-less
D'Or Ahn
, an intimate, uber-sexy haute-Korean spot. Due to an owner whose style is creative and methodical (she spent a year and half painstakingly designing and constructing the small
45-seat space
), D'Or Ahn has kept its soft opening under the media radar, leaving this tiny new Chelsea gem yet untainted by the Citysearch-reading set.
Owner Lannie Ahn custom built the giant 6-foot mohair suede lamp that dangles over the smooth concrete bar, more spacious than normal to give the feel of a home counterspace. The narrow dining space is
Jewel-Bako reminiscent
, with metal mesh on the walls and a glass-encased wine cellar separating the more private back room.
Tapping into Korean roots and formal French training (DB, Alain Ducasse, Per Se), chef Rachel Yang creates unique contemporary food with a Korean flair. You can put away the BBQ prongs for beautifully presented dishes like kimchi "bloody mary" oysters, octopus with pickled pear so good you'll forget what you're eating, a unique short rib, sesame leaf crusted scallop and finally the not-to-be missed
toro prosciutto appetizer
.
Tuck away this unique little spot for your dating arsenal—and head there before it starts getting booked—and Citysearch-ed.