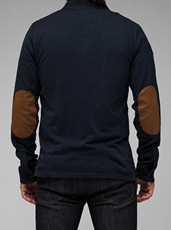 Good God, look at those elbows of yours.
Completely unprotected and unadorned. Utterly exposed to the harsh elements and nefarious funny-bone attackers of the universe.
Two things: first, let no one see you this way. Second: find a top-notch elbow-patch guy.
Never mind, we know just the man.
His name is, seriously,
Jack Foxley
, a guy who can honestly say, "My business is elbow patches, and business is good," lovingly stitching the things now.
Let's get something out of the way—no, he's not a razor-sharp TV detective on the edge. (And technically, his first name's David.) Just a kind soul on a mission to see that your cubita are constantly stylish. He does this with a collection of suede, waxed-cotton and leather patches that come in enough shades to stitch a Technicolor Dreamcoat out of (but, you know, he's more of a purist).
You've got a couple of options here. You can send Mr. Foxley your shirt, professorial tweed jacket or Fred "Mister" Rogers-esque sweaters. At which point you'll pick out, oh, say, a Bond Street Blue pair of suede patches. It'll all be back to you in a couple weeks. Or you can just have the patches sent to you and have your own trusted tailor sew them on.
He does go by the name of Patches Valenti.