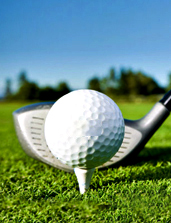 In case you missed it, it's officially spring now.
Which means it's probably time to dust off a few of your more notorious warm-weather tricks that were forced into temporary retirement last December.
Pollen-ball fights. Single-elimination gelato Slip 'N Slide-offs. Base tanning/jumping.
Also, road trips and golf...
Allow us to direct your attention to the
FarmLinks Golf Academy Grand Opening
, a full afternoon of shotgun tournaments, 19th-hole lunching and a short-game clinic involving... Doppler radar, registering now for April 15 in Sylacauga, Alabama.
It's the perfect spring Sunday afternoon, really. Just you, a few of your most stalwart, iron-wielding comrades and the open road. Your destination: the brand-new golf academy at FarmLinks Golf Club for a midafternoon rendezvous with a man named Layne Savoie.
He's the guy who used to coach players on the PGA tour, developed the skills of a few All-Americans and now would like nothing more than to analyze your stroke. In 3D.
So after a quick bite under the pavilion (or a not-so-quick martini at the bar), you'll meet up with Layne for a short-game clinic, where he'll pick apart your game using a Doppler-radar-based system that analyzes your swing and ball flight trajectory on a real-time, 3D display.
Then it's off to the first tee for a shotgun tournament with prizes for closest to the pin and longest drive.
And maybe a participation award for best beverage-cart hail.