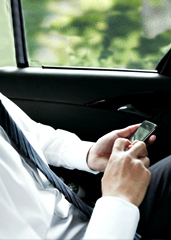 Today, we come to talk of the futures market.
No, not platinum, gold or pork-belly futures. Parking-space futures.
After all, you're going to need a parking space in the near future. Better buy low.
Here to help:
Parking Panda
, a new service that matches parkers with spaces either in the future or when you're already out, taking members now for an April launch.
Founded by a Georgetown grad, this thing has been honed in Baltimore for a year (where, let's be honest, they've got bigger problems than parking), but it's about ready for its DC debut.
Let's say you've just struck up a new special friendship with someone. Problem is, they live at the corner of Wisconsin and Crowded. Hit the Parking Panda website to find an enterprising Georgetowner who just might have a driveway you can rent by the day.
It works in real time, too. Say you're running late for a meeting with the national archivist. (You want to prove your lineage to Martha Washington.) Call up the site on your phone and it will direct you to a Penn Quarter garage with space available.
The rates are all negotiated in advance and paid through the site. Speaking of which, if you've got a space to rent, you can upload the photo, price and availability right now.
Your helipad could fit 30 cars, easy.