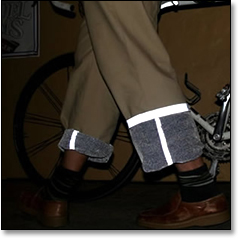 Office pants are not a good look on the bike, and bike pants are not a good look at the office. (In fact, we're not so sure bike pants are even a good look on the bike.)
So someone needed to step up with a garment that could excel in both worlds. And it appears someone has.
San Francisco pants mavericks Cordarounds—inventors of the horizontal cords—now offer up their new
Bike to Work pants
. And your commute may never be the same.
The guys took cotton khakis with seersucker front pockets and belt liners, then they added illuminite Teflon and 3M Scotchlite to the back pockets, inside seams and cuffs. The result is a pair of pants that you could wear to lead a meeting or bike home after a happy hour that ran late.
When you're peddling to and from the office, there are four basic
levels of reflection
. Our favorite—and the safest option—is what they're calling the Mud Flap: The end of each pant leg is pulled up, and your back pockets are pulled inside out to resemble tail lights. While some might be inhibited to take it this far, we see you embracing the look.
You've always been one to let it all hang out.