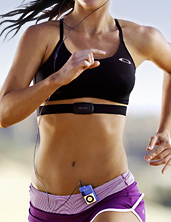 For the past few months, you've had excuses...
It's too cold out. It's Presidents' Day. It's... the day after Presidents' Day.
But those months are about to quickly melt into a chirping, sunny spring paradise.
And naturally, you'll want to be back in Adonis-like form.
Introducing the
Pear Square One
, pretty much a running coach strapped to your body, pushing you to new heights of fitness now.
Imagine a team of professional distance-running gurus analyzing your every jog and sprint, goading you on and putting together a workout plan to make you better. Well, now you have exactly that. With the additional bonus of an iPod dock (although, to be fair, your toaster also docks your iPod these days).
After entering your basics (height, weight, age, gender) into a computer program, you'll put on a couple monitors and some earbuds for a test workout. Based on that performance, Square One will do some running-coach-generated voodoo to create your future workout. Then: run. Just keep running. If you're slacking, you'll hear a certain beep telling you to pick it up. If you're on pace, you'll hear a beep for that, too. Touch a button on your ear to get your heart rate, pace, time and distance anytime.
All that info will be stored in the cloud for you to brag about to friends.
Nothing makes them jealous like running stats.