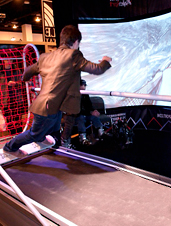 The cool thing about life in LA is, go west and you're surfing. Go north and you're hiking. Go east and you're scaling a mountain.
Go to Beverly Hills and you're snow skiing.
Introducing
SkyTechSport Ski & Fit
, your new high-tech personal training center for skiing and snowboarding, now open on Robertson Boulevard.
Think of this as a hardcore afternoon on the slopes—without the getting-out-of-town traffic, 17 layers of puffy clothing or... snow. Call or email to book a training session in advance, and when you show up, you'll strap into a snowboard or a pair of skis. Feels sort of like normal skiing so far.
Except, of course, you're inside. You're like three blocks from the Ivy. And your skis are on rails, which are on this giant machine that moves around underfoot to simulate carving your way down a mountain... without actually going anywhere. And yes, there's a giant screen in front of you to help complete the illusion. All while your trainer offers you tips on form and balance. In short, think of it like
Ski Ski Revolution
.
Followed by après-ski cocktails on Wilshire.