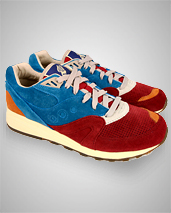 Skidz. Crash Test Dummies.
Saved by the Bell
.
Yes, the '90s were truly a golden age.
And now, one line of sneakers from that era has been gloriously resurrected thanks to your favorite hidden sneaker emporium...
Presenting the
Saucony Elite
, a retro-ish revamp of a Saucony classic in partnership with Boston's very own Bodega, available now at the store.
Hailing from that shining city on the hill, Lexington, MA, Saucony teamed up with Bodega to redesign and reissue these '90s classics with the Japanese market in mind (translation: they run a little small).
So once you've dropped into the store (it requires far less gas than taking a jaunt to Osaka), you'll choose a pair from the three reworked styles. We like the
Master Control
, a runner with perforated burgundy toes and a dark tan heel, or the
Grid 9000
, born in 1994 (just like
ER
) and brought back in beige and blue.
Two other things you should know: rumor has it there are only about 300 pairs available in each style, so if you like what you see, you'll want to act fast. And two: they've all been beefed up with durable nylon and suede.
Suede makes everything better.