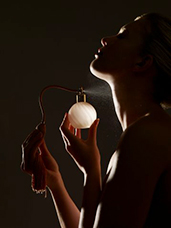 Imagine this.
It's Wednesday morning. February 15.
You've just woken up on the helipad of the Downtown W surrounded by champagne bottles. And an Easy-Bake Oven. Other than a brief run-in with Cee Lo and Mark Cuban at happy hour, you remember nothing of last night.
Then it hits you... you missed Valentine's Day.
All right, that's never going to happen.
But if you do manage to screw things up, here's a little mulligan for you.
It's called
The
Mysterious Art of Fragrance
, a full night of wine-sipping, amends-making and... learning how to make cologne and perfume at Château Élan, accepting reservations now for February 18 and 19.
Yes, you could definitely deploy this semi-dainty evening as a do-over for a less than stellar V-Day performance. But it could also be used as something more like a super-elaborate fourth date.
Either way, you'll make the short trip and rendezvous with Susan Sexton, a master parfumeur who trained at the oldest parfumerie in France (as in, 1747 old).
At which point you'll uncork a bottle of red and proceed to create your own custom fragrances (you'll have about 137 essences to sift through) from scratch before bottling them and presumably spraying them all over each other.
And speaking of, the whole thing also includes an overnight stay at the Inn.
That room is going to smell amazing.