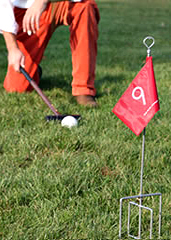 You've got to be kidding.
Look at it out there.
It's almost 70 degrees. Cartoon birds are flying around everywhere. And apparently Piedmont Park didn't get the memo about this whole "winter" thing.
Speaking of, you should probably get out there soon and play some croquet golf.
Introducing
Nine Holes Anywhere
—an online shop solely dedicated to supplying you with all the equipment you'll ever need (mallets, balls, numbered flags...) to master the brave new lawn-gaming world of croquet golf, available now.
So, croquet golf. It's basically just like playing nine holes of normal golf, only with a few... modifications. Instead of clubs, you'll be swinging mallets. Instead of golf balls, you'll be using croquet balls. And instead of sinking them into holes, you'll be driving them into metal pins complete with numbered flags and built-in bottle openers (again, lawn game).
You can set up your course anywhere, but here's how we see this whole scenario panning out: after going online and ordering your set, you'll load up a cooler with olive tapenade and barrel-aged mimosas (or, you know, beer), grab a few fellow lawn jockeys and head to the nearest park/yoga pants convention.
Once you plant your pins in strategic locations (water hazards and densely populated picnic blankets are fair game), it's time to tee off. You'll keep score just like normal golf—every hole is a par-three, and at the end of nine holes, to the victor go the spoils.
Spoils are the best.