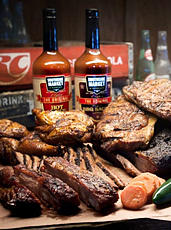 You can't say exactly how legends are made.
Some begin on the field of battle.
Others are born on the gridiron.
But a special few are made with sheer, unadulterated barbecue.
This is one of those legends.
Pull up a knife and fork for
Southside Market Delivery
, a dispatch of pounds and pounds of slow-smoked meat from the oldest barbecue joint in Texas, now ready for any sports-related gatherings you might be having Sunday.
Call us crazy, but we're thinking this might just be welcome alongside the seven-layer dip at your Super Bowl party.
The Legend
package is what you'll want. It's enough brisket, ribs, whole chickens, sausage, pork steaks and sauces to feed 27 to 32 adults. (This figure was calculated using a painstaking human-to-sauce ratio conversion process.)
It's all coming directly from an outfit that's been smoking meat for 130 years in Elgin, TX—widely known as the sausage capital of Texas (which is what realtors there usually lead with).
It's pretty straightforward: you've got a pack of ravenous football aficionados stampeding to your place this weekend. So put in your order... now-ish. They'll provide everything you need, including barbecue and hot sauces. You'll provide everything else (forks, plates, love, celebratory Super Bowl XLVI bibs). It'll arrive already cooked, so just heat it up, sit back and watch grown men do battle.
Enjoy the game, too.