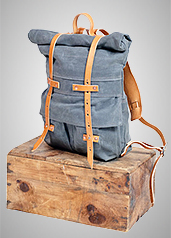 When it comes to where you carry your dossiers, you have two simple rules:
1. It shouldn't look like it came from the man-purse store.
2. Whenever possible, it should be made in the Lone Star State.
Which brings us to
Bexar Goods Co.
, a new line of handsome bags and belts that follow both those rules, available now.
You know the old story: a geologist, a mountaineer and a globe-trotting designer come together in Bexar County to make canvas bags and leather belts that can keep up with their lifestyle. Think Eastwood and Wayne going on an impromptu journey across West Texas. Or, you know, trekking through the mean streets of Highland Park.
The leather: used on the backs of the world's finest thoroughbred horses. The canvas: water-resistant and made from the same material used by European marines. The sewing machine: a vintage Consew 226 single-needle lockstitch—possibly the oldest such machine around. (It's the Rolls-Royce of needlework.)
Sure, you could opt for their whiskey-brown tote bag or the waxy black leather carry bag. But we like the urban vagabond backpack for, say, a weekend journey through the untamed wild of South Beach. Oh, and to keep your pants up: a golden-amber leather belt with a copper buckle and a single belt hole.
Now that's dedication to a waist size.