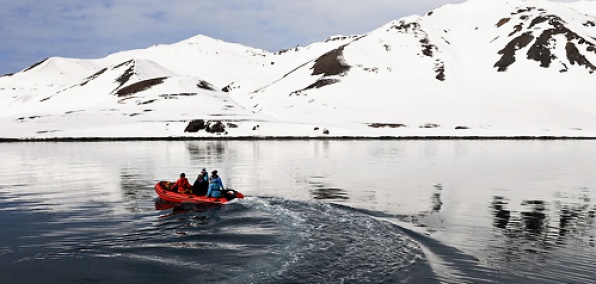 The Arctic.

For centuries, it has called some of history's greatest explorers—guys with names like Svavarsson, Peary and Amundsen—many of whom never made it back alive.

Some froze, others starved. Which is why when you go, you should really bring a private chef...

Introducing the Arctic Ski Cruise 2012, a nine-day sailing voyage through a remote cluster of Arctic islands situated halfway between Norway and the North Pole, taking reservations now for group expeditions departing this May.

First, meet Doug Stoup. If Doug can lead a blind and deaf British adventurer on a 62-day ski trek to the South Pole (and he has), he can surely guide you and around seven fellow enthusiasts across Svalbard—a land mass roughly one-fifth the size of Norway. He'll do this despite its many perils: jagged vertical drops, drifting ice sheets, 10% of the world's polar bear population (feel free to refer to this place as Coca-Cola central casting).

So following a hot breakfast prepared by the onboard chef, you'll set out for Svalbard's untracked, snow-covered cliffs. The kicker: you'll have this rugged icescape almost entirely to yourselves, for all the ice kayaking and off-off-piste skiing you can squeeze into 20-plus hours of daylight.

You'll round out this journey in Spitsbergen, Norway, for a snow safari using a sort of amphibious army tank called a Weasel.

It wouldn't be Spitsbergen without one.