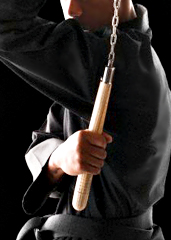 Let's take a look back at your best performances of 2012.
The New Year's Eve kissing scene: steamy.
That soliloquy you gave on sales forecasts yesterday in Conference Room A: we're still a little choked up.
Now, you're ready to expand your range and go all
Expendables 2
on a certain cranky copy machine/parking meter/vending machine that really has it coming...
Before you do anything that may get you hurt (or fired), we present:
Fight Jam
, a semisecret monthly fight club that will train you in the deadly art of hand-to-hand combat. Well, okay. It's stage combat. Let's just say the not-deadly-at-all art of stage combat.
Now, the workshop—which meets in a Lakeview loft—is intended for actors, but it's open to anyone. The group, founded by a chap who teaches stage fighting to Chicago thespians, introduces you to the proper way to fake kick, fake punch and generally swashbuckle like Douglas Fairbanks. (Though the swashbuckling is quite real.) He also sidelines in making swords, which isn't particularly relevant—but you have to admit it's pretty cool.
We see this as an antidote to your usual get-back-to-the-gym New Year's resolution. The workshops cover a range of fighting styles, including everything from karate, stage gun safety and the ever-popular Apache dance fighting.
It's like yoga with more violence.