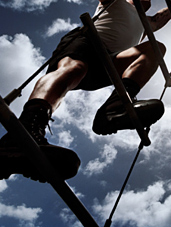 We interrupt your regularly scheduled resolutions for some breaking news:
You're about to be punished.
Not that you've been "bad" or anything—it's just that you ate a lot of gravy last week. And watched a
Hoarders
marathon. Naked.
So, if anything, consider what you're about to do to yourself a blessing in disguise.
A very... painful disguise.
Behold the
Metro Dash
, an all-too-timely dosage of self-administered tough love in the form of a 600-meter obstacle course race designed to make you throw up (in a... good way), registering now for the main event on March 17.
March. Feels kind of distant, really. But seeing as the designers of this thing have somehow managed to cram 20 military-grade obstacles into a course that's less than a mile long, you'll want to consider attaching your game face sooner rather than later.
And to that end, there's a Metro Dash
training program
that may be worth looking into, say, today-ish. Because before you know it, it'll be nothing but you, a starting line and an absurd conglomeration of obstacles up to and including tire flips, high hurdles, balance beams, sandbag carries, upside-down rope traverses and cargo nets.
Do it all in the fastest time and you win.
Thanks for trying out, other resolutions.