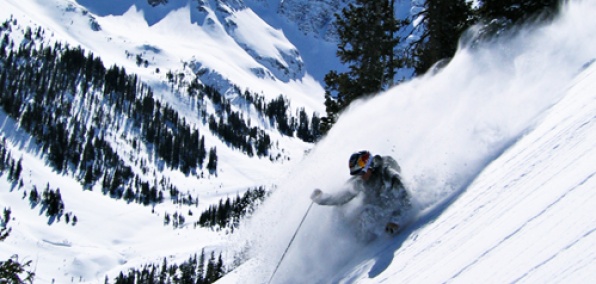 2012: mere hours away.

And dammit, we're not letting another calendar year go by without seeing you climb into a helicopter, fly really high and drop yourself onto the tallest skiable mountain in Colorado.

All with a really great sandwich in hand...

Welcome to Heli-Skiing at the Little Nell, a new option for conquering one of the Rockies' highest peaks, available now for your rotary-propelled, thrill-chasing needs.

Now, you know the Little Nell—the only lodge in town with back-porch access to Colorado's steepest slopes. Your trip will start off comfortably enough—with a fleet of chariots (okay, sedans) taking you from your suite to the Aspen airport. There, your private chopper awaits.

Enjoy the short flight. When breathing starts to feel like weight lifting for your lungs, you're likely hovering above Silverton Mountain (elevation: a cool 13,514 feet). Below: North America's highest legally skiable area. So as a law-abiding citizen, it's basically your duty to plunge directly onto its face.

After you land cleanly on the 22,000-acre mountain range below, you'll spend the next eight hours launching from jagged chutes and open bowls, breaking only for an Aspen-style brown bag lunch—Wagyu pastrami sandwiches prepared by the lodge's executive chef, washed down with wines from the lodge's master sommelier.

It's gonna be a very good year...