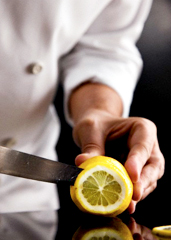 Dividing and conquering: a time-tested battle strategy.
Also: your game plan for tackling grand tasks.
Like, for example, concocting a competitive luau without having to do any heavy lifting.
Allow us to present
Kitchit
, a site with an arsenal of top-tier chefs from some of the city's best restaurants at the ready to execute whatever harebrained dinner scheme you can imagine, available now.
Think of this service as the Pandora for dinner parties. You come up with the dinner party of your dreams, and they'll match you up with the right chef who can appreciate that vision and turn it into reality.
Once they pair you up (think pros from the French Laundry, Meadowood and Gary Danko), the two of you will iron out the details. Let's say a decadent Russian-themed caviar throwdown. The chef and team will come into your kitchen with all their gear and ingredients, dish out caviar and blinis like you're in St. Petersburg and then clean up—leaving no trace.
It doesn't have to be at your house, either. You could have a chef come up to your Tahoe cabin for an après-ski feast, or they could deliver a pig roast to your next tailgate at Candlestick.
Bartending duties—like building a vodka ice luge—can be similarly arranged through your chef, as can sommelier-approved wine pairings.
Because non-paired wines would ruin everything...