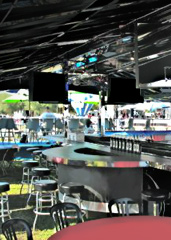 Atlanta has a professional football team.
They're called the Falcons.
But these are things you already know.
What you may
not
know, however, is that you've been doing them (and yourself) a great disservice lately.
By tailgating without a disco ball...
So it's high time you discovered
Port-A-Party
, a fleet of portable sports bars each complete with flat-screens, surround-sound systems and a giant 360-degree marble bar complete with a disco ball. They're based out of Alpharetta, and they're available now for your next parking lot soiree.
To be clear, this isn't some tent. This is a fully integrated pop-up shenanigan factory made of steel and aluminum—it's basically like picking up your favorite sports bar and dropping it in the middle of your parking lot, backyard or unnecessarily large living room of choice.
Here's how it works: you'll start by putting in a quick call to our friends up north and giving them the details. When the time comes, they'll roll up in what looks like a long black tank. The sides will rise. Workers will assemble things...
And you'll be left with 1,700 square feet of covered space with four HD flat-screens, ceiling fans, DVD and iPod connections, tables and chairs for up to 60 people and, of course, that giant marble bar with a disco ball hanging over it.
If Barry Gibb and Matt Ryan stop by, you're gold.