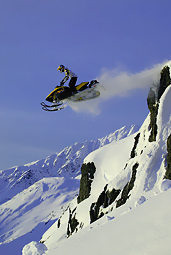 A recent weather forecast on the Alaskan frontier:
Temp: 19 degrees Fahrenheit. Winds: howling. Daylight: sparse. Sleet: driving... hard.
Which can only mean one thing: time to dust off the old snowmobile...
Introducing the
Alaska Snowmobile Safari
, a guided snowmobile super-tour across the Last Frontier's frozen icescape, booking private trips now through April.
Your task is simple enough: lead three to 15 like-minded friends on a seven-day excursion through a 1,000-mile expanse of frozen tundra.
Your journey begins in Willow, Alaska, with a 25-mile drive along the Susitna River, followed by another 35-mile trip along the Yenta. By nightfall, you'll reach your home base for the next two days: a secluded cabin on the banks of the Talachulitna River.
This is your chance to refuel with some Alaskan-style R&R: ice fishing, snowshoeing and general moose-admiring. (The draft beer will help.) Use your time wisely. Soon, you'll remount your steed and drive deeper into the cragged landscape.
It's a long haul, but when you hit Mount McKinley (hard to miss), you've reached the end of the line. You'll spend your final days racing up its foothills, and your nights (average sunset: 3:45pm) huddled around McKinley's base, roasting handpicked Alaskan crab under the northern lights.
Fantastic substitute for sunlight.