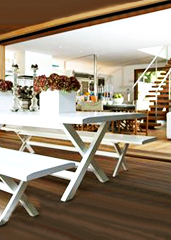 Eighty degrees in November: puts you in the mood to plan a beachy getaway.
Nothing big, just a few friends, some old
Baywatch
DVDs and a wigwam... all with the blessing of
Baywatch
's finest.
Okay, second finest, right behind Hasselhoff...
Step inside
Pamela Anderson's House
, your chance to rent out the home of the blonde bombshell behind
Baywatch
,
V.I.P.
and
Borat
for a week. Or a month. Whatever. She's accepting reservations online now.
So on a truly magical day in the near future, you could find yourself winding your way into Malibu Colony with a few buddies and a very special house key. And you'll walk in... to Pamela Anderson's house. (She's spending a lot of time in Canada these days.)
It's a big, bright, Malibu-y kind of place, with three bedrooms and inherent Pam-ness. Yes, there's a swim-up wet bar. Yes, there's a baby grand (for banging out the occasional Tommy Lee or big-in-Germany Hasselhoff hit). And yes, there's a state-of-the-art entertainment system, in case you want to watch some slow-motion running in style.
She says the place is inspired by Neutra, her favorite architect, but she's spruced up her take on his aesthetic with some personal touches. Like the wigwam she installed outside.
Hey, the woman knows some things about architecture.