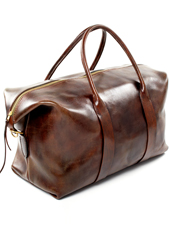 Let's talk about Thanksgiving.
... 2043.
Specifically, the belt you'll be wearing and the bag you'll be traveling with.
Because we just found them.
Introducing
Cavalier Essentials
, a line of leather goods, vintage finds and engraved randomness, available online starting today.
This is the kind of stuff you would theoretically be handing down to your grandchildren, if only you could bring yourself to part with it. Among the treasures: a handmade leather duffel bag that looks like it's got wisdom to impart, an engraved cigarette case that'll leave you no choice but to take up smoking and a badger-brushed kit put together with the help of the English shaving artists at Edwin Jagger. And all of it was done by a guy who was still in college while he was creating it.
As for the
actual
vintage stuff, you're going to find a rotating selection of curios (old Pendleton shirt jackets, knives, football helmets) and old literary classics (if you're into first-edition copies of
The Old Man and the Sea
).
We can see it now. You're strolling in slow motion through the airport terminal, face so clean it's making sword noises. TSA takes one look at your bag and just waves you through. You board. The pilot and copilot make an announcement about you...
But really, you're not ready to fly a plane.