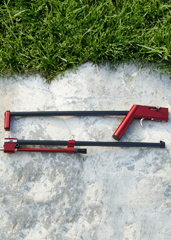 It's that time of year again.
The time when words like jerky, bourbon and weaponry roll off the tongue like molasses (there's another one... molasses).
Big news on the weaponry front, though.
Somebody built a rifle that turns into a fishing pole.
Cue "God Bless America," fire off the bottle rockets and prepare to meet the
Pack-Rifle
, an unnecessarily necessary firearm that weighs less than a pound, breaks down to fit into your backpack and catches bass, available now.
Think Transformers. Now think of them as guns instead of cars. There you go.
First off, this isn't the thing to break out for bagging big game—it's only a .22. But let's say you find yourself hiking through the Appalachian foothills in search of the perfect picnic spot with a lovely adventure seeker in tow. It's probably not a bad idea to have some protection on standby (black bears: huge fans of your cream cheese pumpkin dip).
So you'll call one of the outfits in Idaho or Utah that stock this thing and summon your equalizer. Soon to follow: your very own handcrafted single-shot carbon fiber rifle that weighs less than a pillow and easily fits into your hiking bag.
And should the sudden urge to host an impromptu creekside fish fry take hold, just screw on the rod and reel, and there it is... fishing pole rifle.
Or as you like to call it, unnecessary toy #237.