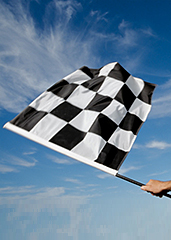 Something crazy is about to happen in your bed.
Let's just say it involves you, four other people and a few costume changes.
And helmets.
Fine, we'll tell you more...
Welcome to the inaugural
Atlanta Mattress 500
, a not-so-competitive race requiring you and four teammates to push a tricked-out, four-wheeled bed across the finish line in the grandest fashion possible, registering now for November 12 at Atlantic Station.
Yes, this is happening—teams of five, rolling beds, race to the finish.
But in order to achieve this level of high-thread-count domination, you'll need to round up a few like-minded individuals to help you put it all together. First, pick a theme for your bed. Sky's the limit here—anything from going full Xerxes in
300
(replacing the wheels with man-slaves optional) to having someone physically roll you out to Atlantic Station mid-breakfast-in-bed.
Come game day, each team will be provided with a four-wheeled chariot of fire/twin bed and have exactly 20 minutes to deck it out (happy hour time trials at your place strongly suggested) before racing over 100 yards to the finish.
The rules: four people push, one person lies down (or does whatever) and may the best bed win. They'll also be doling out prizes for best costume and bed decoration.
Consider tonight a trial run.