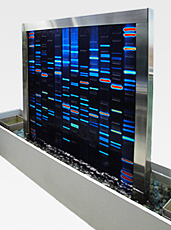 This might get personal, but here goes.
We need to talk about your DNA.
Okay, really personal, but hear us out. It's given you a lot of great things. Your cheetah-like reflexes. Your naturally luscious locks. Your
favorite painting
.
And now: a handsome new rug.
Introducing
DNA 11 Labs
, a group of renegade geneticist-artists creating works of design out of your DNA, taking special orders now.
You might know these guys from their work in the DNA arts—literally making paintings from your genetic building blocks. But now they're turning their attention to more practical uses for your chromosomes—you know, like enormous backlit waterwalls. Also: laser-etched glass portraits, wallpaper and rugs with images of your very own genes (as one-of-a-kind as it gets).
Before you ask: no, you don't have to spend any time with beakers, goggles or graph paper. They'll send you a sample kit. You'll send them a cheek swab. And then: science. Once they've mapped your genome, you'll decide how you want to show it off. So a few weeks from now, you'll be giving the grand tour of your place to a winsome pre-med or the Dalai Lama (you like to keep the doorman guessing), and nonchalantly point down to the floor while saying, "Oh, and that's an artistic rendering of my inherited athletic ability... on carpet."
You always let your carpet do the talking.