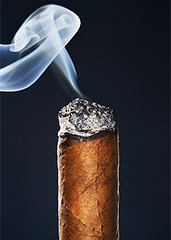 It's not that you're picky.
It's just that you insist on things being precisely the way you want them with no wiggle room whatsoever.
Okay, you're picky.
And seeing as your cigar and scotch intake is about to reach its yearly peak in the next few months (like it does), we may have a fussy-friendly suggestion for that cigar part.
Make your own...
Introducing
My Cigar Online
, a service that lets you create your own bespoke cigars from scratch, available now.
Think of this as the cigar version of a salad bar. You get to walk up with your virtual tongs and select whichever items... never mind, that analogy isn't working. Still, you get it.
This is the brainchild of a 25-year cigar industry vet named Gilles who's been living in the Dominican Republic for a while now (we hear they know a thing or two about tobacco sticks around those parts). Anyway, he built you a virtual cigar factory.
And all he asks in return is that you properly bestow your next tailgate party or impromptu fireside single malt bonanza with the good stuff. You'll start by choosing your size, from Robusto (little fellas) to Double Corona (kind of huge). From there, you'll be able to customize everything, from the wrapper and the aromatics to the exact percentages of tobacco styles you're looking for.
In other words, if you still don't like it, you've got issues.