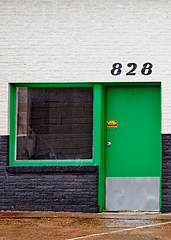 Psst... come here. Closer.
Wow, too close—take a step back.
Okay, we have a secret. You have to promise not to tell. It concerns an old garage. And your next Old Fashioned...
Welcome to
Bar 828
, a pop-up cocktail den in an abandoned Bishop Arts garage, open Thursdays to Saturdays, only in October.
This is a sort of R&D lab for cocktails, where you're the guinea pig. It comes from two mad scientists who've spent time slinging bourbon at Bolsa and the Cedars Social (and have a much-anticipated downtown spot in the works).
Your journey begins on Davis Street, past Bolsa. You'll stumble upon what looks like a warehouse pulled straight from
The Wire
: cracked windows, beat-up garage doors, concrete floors. But on the inside, there's an open room with a DJ booth and bars covered in white sheets. Also: booze. Lots of booze.
This isn't a normal bar, so when you order your cocktail (inspired by ones from the pre-Prohibition era), your bartender may begin taking an ice pick to a massive block of ice, or mixing together some smoking liquids. Relax. They know what they're doing. Just don't be surprised if they pour you, well, whatever they feel like pouring.
Remember: it's all for research.