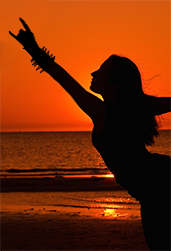 We have some bittersweet news today.
The bitter: it involves you, a yoga mat and poses with names like "King of the Dance" and "Cow Face."
Also worth mentioning: your cow face is about to be melted off.
That would be the sweet...
Welcome to the awkwardly amazing world of
Metal Yoga
, an oxymoron in the form of yoga classes set to the soothing sounds of death metal, registering now for Monday and Thursday classes at Young Blood Gallery in Poncey-Highland.
Think of this as the healing and spiritual equivalent of the mosh pit at a Mastodon concert. And whether or not that's your cup of tea, there's no way we're letting you get through this Tuesday afternoon without at least knowing such a thing exists.
So, on with it. Mondays are for beginners, meaning that unless you're already a regular on the Iron Maiden/Happy Baby Pose circuit, this one is for you. You'll rendezvous at Young Blood (an art gallery, naturally) with your instructor, Neda, at 8pm sharp.
From there, you guessed it. An hour and 15 minutes of stretching, posing and air-shredding your way into a state of physical and mental well-being to the sultry tunes of Napalm Death. Of course, there's also the advanced class on Thursday nights.
Testing your metal, now uncomfortably literal.