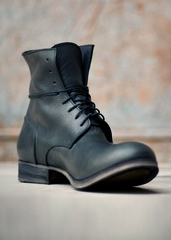 Your fall hierarchy of needs: football in all forms, unholy amounts of stuffed poultry and a Gore-Tex tuxedo jacket (to complete your Gore-Tux).
Shooting up the list: boots so supple you want to eat them.
Introducing
Peter Nappi
, a decadent Valhalla of sensual leather and Italian-ness in the form of boots and bags, available online and in Nashville (the Milan of America) now.
Imagine the kind of gear that looks like it grew from the earth and was discovered a hundred years ago by a guy named Giuseppe. Or maybe it's made by Italian artisans and brought over by a guy named Phillip, who named the company after his Italian shoemaker grandfather. It's anyone's guess.
Anyway, you'll go where you always go for handcrafted cow glory—the Internet—and find that perfect pair of
Cool Hand Luke
–worthy lace-ups, or the leather case your laptop deserves. Or you could stop into the studio in Nashville, where there are bespoking options, a Civil War–era flag and a concert stage.
For field testing.