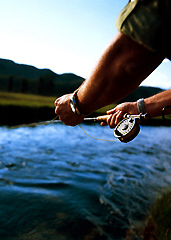 You've got a voracious appetite for leisurely outdoor pursuits.
We get it.
And just for the record, you don't have to whip out a bow and arrow, rip through the woods on an ATV and/or learn the finer points of falconry to prove that to anyone.
But if you wanted to... this weekend would probably be the time.
Just saying.
Behold the first-ever
Epic Outdoor Game Fair
, a three-day sojourn into the wilds of Douglasville (or you could just drive out there for a few hours) in celebration of all things outdoor sport, happening this weekend 30 minutes due west.
This thing is ridiculous. In a good way, of course. But if it helps put things in perspective, think of this as your onetime shot at squeezing an entire lifetime of Ted Nugentry into one glorious weekend.
You'll head out to the Foxhall Resort & Sporting Club with an open mind and a truck full of bloodhounds and firearms (or, you know, friends and snacks and stuff). The whole compound will be broken up into various "villages," each with a specific... function.
That's to say, one minute you might find yourself fly-fishing lakeside or catching a polo match at the Equestrian Village. The next, flirting with the banks of the Chattahoochee from the seat of an ATV or hanging out with owls and falcons at the Birds of Prey Village.
Falconry. So hot right now.