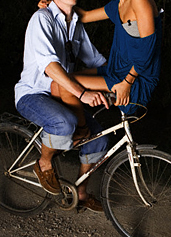 You've come to accept those topless Hollywood tour buses. Fact of LA life.
But sometimes you yearn for a world where everybody just ditches them for some bikes, rides around some sex-scandal sites and then, well, champagne for all.
Introducing the
Sex Scandal Bicycle Ride
, a leisurely bike caravan examining the sites of infamous Hollywood sex scandals, rolling out tomorrow from the world's foremost authority on such matters. (That would be the Pleasure Chest.)
So tomorrow afternoon, you'll bike over to the Pleasure Chest. (We've helpfully included the address, since we're sure this is the first time you've ever visited this establishment.)
Thirty minutes later, you and your fellow history buffs will take to the streets for an educational jaunt to some of our city's most notorious crevices—like the corners where Eddie Murphy and Hugh Grant really, really wish they'd never stopped to make new friends. And maybe a quick look at Hollywood High... where they say Errol Flynn liked to find girls.
All in all, you'll spend about 90 minutes tooling around Hollywood and WeHo, then it's back to the Pleasure Chest for gratis hot dogs, ice cream and a champagne toast.
And anything else you'd care to pick up inside.