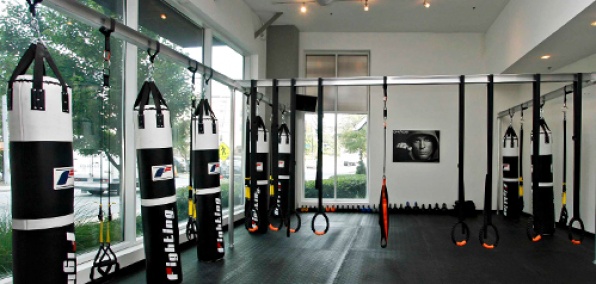 [Option_A_Left_Column]Hey, so get this.

There's this guy in Buckhead. Name's Jeff.

He's got a black belt.

But actually, that's not why we're telling you all this. It's because he wants to work out with you... and possibly turn you into the human version of a honey badger in the process.

Oh, and he's got a DJ.

Introducing Chaos Conditioning, your new dojo for intense rounds of interval-based suspension training, kickboxing and bass-thumping ass-kickery, booking classes now and opening Monday in Buckhead.

The premise here is simple: your body isn't supposed to get comfortable and your mind isn't supposed to get bored. So if you're okay with it, Jeff would like to go ahead and confuse the hell out of both of them.

You'll find yourself in a huge white room—walls on one side, floor-to-ceiling glass on the other. There's loud music playing. Projections of random images on the walls. White tigers just walking around everywhere (okay, no, but still...).

By this point, you've already chosen one of four classes with names like Impact and Complete Chaos, where you'll rotate through various stations bastioned by punching bags, medicine balls and heavy training ropes (the kind they use in the NFL).

And soon enough, Jeff will unveil a program called Club Chaos, where he dims the lights, ups the intensity and invites a DJ along for the ride.

If his name is DJ Chaos, we quit.