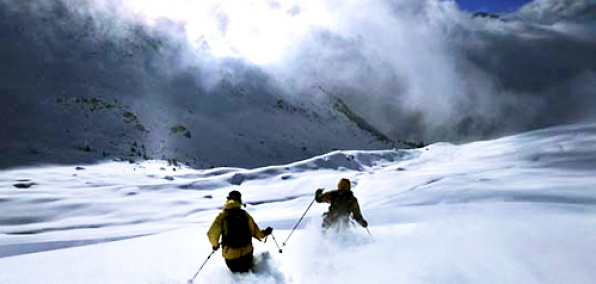 Artificial snowmakers. Oxygen-deprivation tents. Hours of watching Better Off Dead.

You're more than ready to take on the untracked mountains of Kashmir—all you need now is someone worthy to lead.

Like James Bond's stuntman, perhaps.

Introducing Skiing Kashmir, a 10-day journey where you'll forge new trails through deep, untouched Kashmiri powder—with the man behind Bond's snow-based athletic prowess as your guide—organizing trips now for January departures.

Think about that scene in A View to a Kill, when Roger Moore boards down virgin slopes on a broken snowmobile blade. You probably won't have to do that on this trip. But you will be trailing the guy who actually did—and that's almost the same thing...

So you'll make your way to your lodge in the ski town of Gulmarg after flying into Delhi, meet your guides (John Falkiner is the main man) and spend a lift-assisted day acclimatizing. After that, things get intense—you might summit Mount Afarwat and take on 8,200-foot drops and 12-mile-long runs. There will be heli-skiing (you'll sleep in a shepherd's hut), cross-country skiing (while dodging trees) and carving trails in vast open bowls.

On days the weather isn't cooperating (you know how those Himalayan winds can get), you'll ski at lower altitudes by the Baba Rishi temple. And you'll spend your final night on a houseboat parked on Dal Lake in Srinagar.

Ask Falkiner what Bond would do at this point.