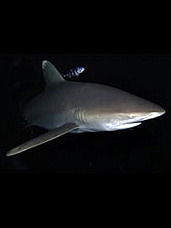 Let's get you out of town.
Actually, you're probably way ahead of us on that one.
But we figured if anything's worth a last-minute road trip reroute, it's this...
Reeling in hammerheads. At night. On a party boat.
Welcome aboard the
Ospo
, a 44-foot vessel standing by to transport you and your bravest sea-legged companions off the coast of Jekyll Island for a little
Night Shark Fishing
, taking reservations now for this weekend and beyond.
Now, in some circles, this is considered to be a relatively unsafe activity. In fact, we may or may not have run into a few charter captains who strongly advise against it (something about a 300-pound fish with razor-sharp teeth flapping around the deck of a boat at night).
But you're good. Because soon enough, you'll find yourself in the capable hands of Captain Larry Crews—he's been doing this for about 44 years, he knows the best spots and he's got the face mane of a hardened sea god. That, and he'll let you bring beer.
So after rendezvousing with the good captain at the Jekyll Harbor Marina, you'll load up the
Ospo
with your provisions (note: these are the beers we were talking about) and journey a mile or two out to sea. From there, you'll cast your line into the moonlit Atlantic and pull up anything from hammerheads to makos to tiger sharks.
Might want to dust off your chain mail wetsuit.