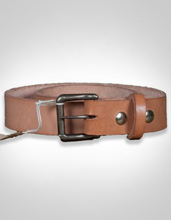 You took on Irene with a steely resolve.
You've since emerged from your fortified storm shelter (aka the living room fort you made with couch cushions), intent on appreciating the simple things in life.
Like where to get the kind of belt you can pass down to your future son.
Which brings us to Boston's
Lodge Co. Belts
, a line of simple, handmade, rugged-but-classy leather belts available now at Ball and Buck in the North End.
If yesterday's marathon ride-out-the-storm movie session of
Legends of the Fall
,
Braveheart
and
Dances with Wolves
left you with one lesson, it's that a durable leather belt is critical to the hero's plight (along with good bone structure and a sweeping score).
But your plight is less of the William Wallace variety, and more of the "my trouser waistline must be well accessorized," so these will do nicely. Each belt is measured, cut and finished by hand, using 10 ounces of top-notch leather from a manufacturing company that has been churning out leather goods since 1905. Translation: it'll age well on you, and you'll probably be able to pass it down to your kid.
You can choose from two different styles—basically a raw cowhide version, and one that's been treated with a hand-rubbed finish to give the leather greater comfort and durability, called Chromexcel.
Which apparently has nothing to do with shiny spreadsheets.