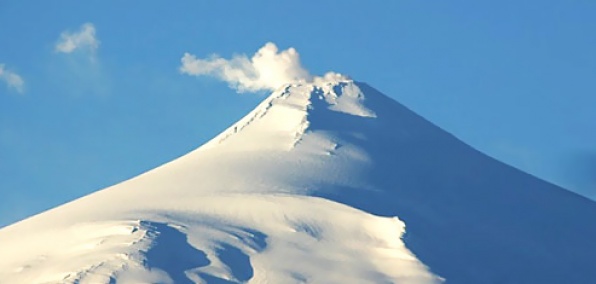 Chile has a volcano problem.

The summer eruption, sure. Also: there's a hell of a lot of them.

But where others see problems, you see unbounded opportunity.

To conquer three of said volcanoes. On skis.

Presenting the Chile Volcanoes Ski Tour, a nine-day, ski-lift-free trip where you'll climb up and (randonee) ski down three volcanoes, taking reservations now for a late September departure.

Tom Hanks made a movie about this. And if his character hadn't been such a fatalist, maybe he'd have, like you, strapped on a splitboard and scaled an alpine volcano.

You'll meet your guides in Temuco (an 80-minute flight from Santiago), get debriefed on things like avalanche safety and, after an early night, start in on your first conquest: Volcán Lonquimay. You'll spend the next two days breaking in your randonee equipment—and glutes—before moving on to the (quite active) Volcán Llaima, where you'll attempt the crater itself. Finally, you'll summit the largest volcano in the region—Villarrica, near Pucón—before skiing down its back bowls. (Avoid the magma chamber.)

Once you've deemed yourself master of the natural world, spend extra time soaking in Pucón's hot springs. You have, after all, just completed what equates to an ultra-marathon of StairMaster-ing—and have a farewell cookout to attend.

Chilean steak is great for muscle recovery.