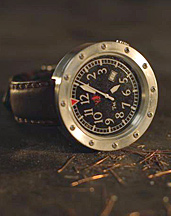 Hand it to the Swiss, they produce some really magnificent things.
The chocolate. The cheese. The clocks. Ursula Andress.
But sometimes you wonder if they get you. We mean really
get
you. Your life. Your needs. Your wrists.
So we found something that does:
Tool Watch by Berkbinder & Brown
, a gutsy, assembled-in-Chicago timepiece constructed using the most precision innards Zurich can create. They're now taking orders for November delivery.
This watch is the classic story of beauty meets brawn. Of South Side work ethic meets LaSalle Street savvy. Of three-martini lunches meets I'm going to take a shower with my watch and Italian suit on because I just drank three martinis at noon.
It's okay, this watch can take it. The strap is made of calfskin, but the outer case (available in bronze or stainless steel) looks like something from the cockpit of a fighter jet. It's water- and shock-resistant. And while the case is made here in town, the internal gears are imported from the largest timeworks maker in Switzerland. All good to know, but here's the important part...
You're driving to the big fall benefit/gala/function/formal skydiving meetup. So, naturally, you're in your favorite tux. Then you get a flat. You won't have to bother taking off this watch just to crank some lug nuts.
AAA will get there in record time. You'll be timing them.