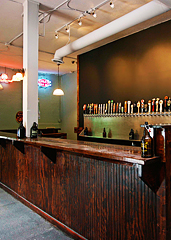 Look, this isn't worth drawing out and getting all emotional about.
Although if you feel the sudden urge to burst out in song and/or adopt a unicorn after hearing the following, we understand.
Here goes...
We just found a place willing to fill all 40 of your growlers at the same time.
Yes, the search is over.
Welcome to
The Beer Growler
, the city's first and only growler-centric suds shop and your new take-home sanctum for Allagash Curieux, Crispin Cider and Ommegang BPA—64 ounces at a time, opening Friday morning in Avondale Estates.
Before we go any further, a few words on the level of pedigree in play here. The guys behind this tiny conclave of growlishness are the very same ones who (literally) wrote the legislation that made growlers legal in the state of Georgia. They're like the Atticus Finch of beer.
So you'll head out to beer country and breach the double doors of a small white building. To your left: beer glasses, T-shirts, brewery swag. To your right: more of the same. But there, directly in front of you, lies that which you seek—a behemoth silver tap wall housing no more and no less than 40 constantly rotating craft beers.
Which is where it gets tricky. One minute, that Southern Tier 2XIPA speaks to you as if in a dream. The next, you find yourself being wooed by the super-rare St. Bernardus Abt 12 off to the side.
Either way, you're getting hit on by beer. Nice.