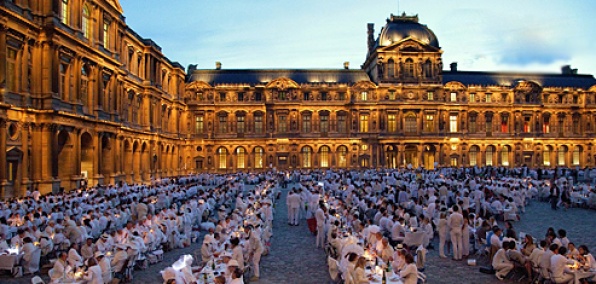 This is important. Sit down.

No, wait. In fact, don't sit down. Go to your closet. Make sure your white tuxedo is exactly where you left it. We predict a run on them very, very soon.

Prepare yourself for Dîner en Blanc. Yes, it's coming.

We know what you're thinking: I have no idea what the hell you're talking about. But you do. It's that picnic flash mob thing. You read about it. They do something similar in France (yes, that's what's in the picture). And Montreal. And soon, Atlanta. So the next logical touchdown was Chicago.

For right now, just sit tight. At noon on August 1, you'll register on their website. The first 250 people will be on the list with a plus-one. The next 250 pairs of tickets... well, that's trickier (let's just say your charm will be employed). Finally, a few hours before the event on August 27, you'll get an email telling you the coordinates.

But you'll know it when you see it: 1,000 people, all outdoors, all dressed in white formal clothes, all sitting at tables for two with white tablecloths. Plus, everyone will have one other item: a white trash bag. The point is to leave no trace that this ever happened.

So unlike the indelible scars on your soul Maroon 5 left you with at Ravinia.