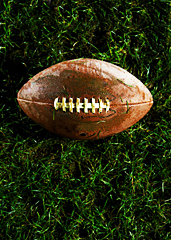 Well, it's official.
The NFL lockout: kaput.
And now that you can safely begin focusing on things like tailgate parties, pigs in blankets and tailgate parties again, allow us to throw yet another diversion into the mix.
Football-themed adventure racing.
Naturally. So pad up and get ready for the
Gridiron Trail Rush
, a 5K that requires you to carry a football through a never-ending series of pigskin-related obstacles, registering now for the main event on August 13 at the Georgia International Horse Park.
So yeah, football race. And since you've already started looking for ways to usher in the pre-preseason in style—guest judging the Falcons cheerleader tryouts, pulling all-nighters with your chili shaman—this should be a natural fit.
You'll start by recruiting a few like-minded racemates, coordinating jerseys based on which teams you're going to represent and registering for either the Varsity (hard) or Tailgater (less hard) division.
Come race day, you'll show up to the starting line (yes, there will be cheerleaders there) and requisition your football. You'll need this in order to properly blaze through obstacles like the Sewer Crawl, Creek Run, Tackling Dummies, Mud Crawl and a little something called Hit the Showers... which works out, because there's also an after-party at the finish line.
It also works out because there's cheerleaders there.