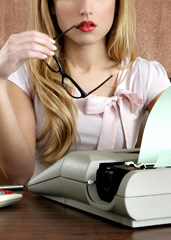 So there's these two girls who want to meet you.
We put in a good word, and turns out, they're pretty big fans.
We told them about how you lost a bocce match once just to see what it felt like. About your short stint as Beyoncé's choreographer. And the fact that you invented the word "soup."
Well, now they want to write a book about your life.
Hope you don't mind...
Meet Natasha and Mia, the literary geniuses behind
Velveteen
—a new service that collects the sordid and prodigious details of your life and turns them into a book, available now.
Right about now you might be thinking of why you would ever need such a thing. The answer: you don't. Instead, just think of this as a way to thank yourself for a life well lived by way of a hand-bound, fully illustrated, semi-ghostwritten autobiography. Also: makes a good gift for Mom.
Either way, here's how the immortalizing will go down: first, give the girls a call. They're going to ask a lot of questions. Answer honestly. Then you'll send them some pictures via Facebook or email so they can start the illustrations.
Mia will do the drawing, Natasha will do the writing... and you'll do the sitting back and waiting for your copy of
That Time I Went Blowgun Hunting with Rod Stewart
to arrive at your door.
Volume 1, at least.