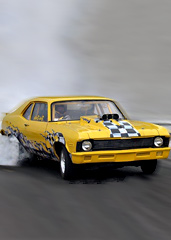 It's been happening right under your feet for quite some time now.
Every Friday night in the small town of Hampton, a cacophony of roaring engines comes to life.
Muscle cars. Hot rods. Roadsters.
The occasional Ford Fiesta...
Welcome to
Friday Night Drags
, an open call, amateur, street-style drag racing series on the eighth-mile pit road of the Atlanta Motor Speedway, now awaiting your arrival for this Friday's engagement.
Think of this as your chance to finally reenact that chicken-run scene from
Rebel Without a Cause,
minus any risk of getting your leather jacket caught on the door handle and driving into the ocean.
And here's what you'll need to do: show up, register and race.
Yes, it's pretty much that simple. So after heading out to your stable—sometimes referred to as a garage—and choosing the right steed for the job (you can race with anything from your Model T Roadster to a souped-up riding mower), you'll head to the track, register and hit the drivers meeting for a rundown of the rules.
From there: nothing but pure eighth-mile domination as you blaze through a series of single-elimination battles royale while the crowd cheers you through one checkered flag after another from the grandstand.
But even if not... come on, you just drag raced.