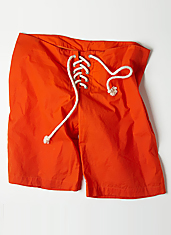 The plan's simple.
Bag: packed. Supplies: stowed. Getaway car: gassed.
All that's left to do now is set a course due east and gun it for the coast.
Oh, and pick up something snazzy to cover your naughty bits.
Meet
Quit Mad Stop
, the impeccable source for your hand-sewn summer board shorts, online now.
If there were such a thing as formal bathing suits (honestly, there's a gaping hole in the black-tie beachwear marketplace), these Italian-milled, hand-stitched, New York–made, perfectly tailored trunks would be it.
So before your next maritime venture, you'll visit their website and thumb through the three and only three suits on offer. There's a waxed-cotton citrus orange number with stainless steel grommets. An extra-black pair that sports adjustable side tabs and three (yes, three) zipper pockets. And an olive drab short in case your weekend itinerary includes the camouflage infiltration of a Hamptons houseboat.
As for their other sandy sartorial supplies, you'll find beach bags (made from duck canvas and untreated raw shoe leather) now. And sailing hats, indestructible windbreakers and an oversized Turkish towel in the very near future.
If there's one thing the Turks are known for, it's their humongous towels.