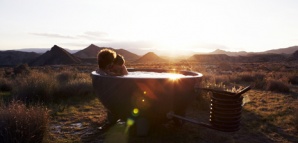 Now that it's truly summer, you've got two things on your mind: hot tubs and grilling. Call us crazy, but we suggest you take on both at once.

We're talking, of course, about our old friends at Dutchtub, who recently decided to bring their formerly-hard-to-acquire hot tubs to New Yorkers by embracing the rental market, which given the recession is how we're satisfying our hot-tub/grill needs right now.

For those unfamiliar with the tub in question, the Dutch is a perfectly round fiberglass wonder resembling a giant coffee mug from outer space, with enough room for you and six of your closest friends. Unlike the usual plastic models, the Dutchtub is wood-fueled, so to heat it up you'll want to build a Boy Scout-style fire in the coil fireplace attached to the side. That also means there's nothing to plug in, so you can take it up to your rooftop and spend the night in hot water, with all the booze, scenery and companionship you want just an arm's reach away.

With the fire close by, you can show off your grilling expertise—the tub comes with a wok to put over the heating coil, so you'll be able to cook up wok-fried Wagyu beef cubes for your sextuplet of hungry tubmates without toweling off.

If you need even more, the Dutchtub folks will gladly drop by your pied-a-terre with robes and champagne on request—perfect for when your roof party needs a little more juice.

Or a little more hot water.