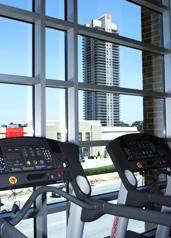 Hitting the gym.
To some, an opportunity to improve upon their overall fitness.
To others, a means by which to increase their meat-to-head ratio by donning zebra-print pants and saying things like "check my lats."
But to each his own...
You can just go for the
Black & Tan Smoothies
and private steam rooms.
Welcome to
Urban Active Fitness
, a behemoth new temple of leisure that also happens to have 45,000 square feet of fitness equipment lying around, officially open as of yesterday in Buckhead.
Granted, you'll probably want to engage in some type of physical activity while you're here. And you can. But as you step inside the main chamber (sometimes referred to as a lobby), you'll also have a few... low-impact options: hit the smoothie bar for an acai shake. Grab a seat on a cream-colored leather couch. Gear up at the pro shop.
We'd suggest exercising these options.
Because just around the corner lies an inappropriately large room with 127 pieces of cardio equipment (each with its own flat-screen), a track/turf sprint track, punching bags, spin rooms and free weights as far as the eye can see.
Which means that later, you may want to slip away into the gray-granite confines of the locker room, complete with private showers, more flat-screens and separate wet and dry steam rooms.
When in doubt, go wet.