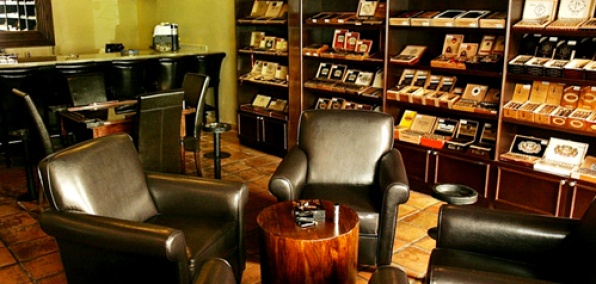 We know, you've got a guy.
A suit guy (apprenticed with Mr. Zoot). A coffee guy (great-great-nephew of Juan Valdez). A Heat tickets guy (you should probably fire him).
Today, we'd like you to meet your new cigar guy.
Who just happens to not be a guy...
Introducing
Lit Cigars
, the only female-owned cigar bar in the city, and a cushy stogie den that's been quietly dispensing exotic tobacco and wine in Coral Gables.
Walking in, you'll be immediately hit with the sweet perfume of tobacco, cedar and... espresso (they pride themselves on a good latte). Commandeer a black leather armchair in the corner, summon one of the two comely Latinas who run the place and settle in for a relaxing smoke.
The walls are lined with all manner of rolled tobacco, including boxes from Caribbean artisans (you know, the non-embargoed kind). And the bar is stocked with coffee and mostly Spanish wines that the alluring tobacconistas will happily pair for you. For instance, the Nicaraguan Perdomo Champagne Robusto goes really well with a cup of black coffee.
Stogies + coffee = breakfast game changer.