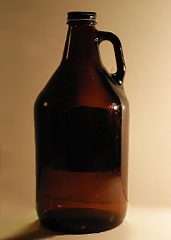 The weekend's on the horizon. The series is tied. Sienna Miller just accepted your friend request.
Things are looking good.
And this weekend it'll get better, all thanks to a new friend...
Introducing
Growlers at Lakewood on Tap
, the very first option in Dallas for keg beer to go, starting this Saturday at the Lakewood Whole Foods.
On the off chance you're unfamiliar: a growler isn't that wrestling maneuver Uncle Leroy used to break out back in the day. It's a half-gallon glass jug that's overflowing with draft beer, named after the sound that the CO
2
makes when it escapes from the lid. And better yet, you can take it home.
So say you've got a summer cookout coming up, and you're struggling to find the perfect thing to complement both habanero guacamole and perfectly grilled schnitzel. You'll make a pit stop at this place, which is like an underground brewpub that just happens to be located in the middle of Whole Foods.
You'll ask for John, who will guide you through the four wines and eight beers on tap. Pick up a growler, and choose from a rotating lineup of craft and local Texas brews. Nothing's final yet, but names like Dogfish Head, Rahr, Boulevard and 512 Brewing Company have been mentioned.
They mentioned your name, too.