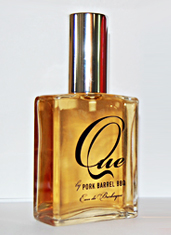 We couldn't help but notice: you've taken on the aroma of charcoal, with some underlying notes of brown sugar and the faintest soupçon of cayenne pepper. (Frankly, it's intoxicating.)
We think your weekly Texas vs. Memphis BBQ challenges are to blame.
Then again, it could just be your cologne.
Introducing the biggest thing to hit the fragrance market since sandalwood:
Que
, the new BBQ-inspired scent from the guys behind Pork Barrel BBQ, available now.
Consider this the cleaner alternative to rubbing smoked ribs on your neck (which, for the record, also works). And it's also got a pedigree: these former Hill staffers have won awards for their sauce and pretty soon they'll open their own BBQ palace in Del Ray.
But for now, they'll just tease your olfactories (and everyone's around you) with this small-batch cologne. Inside the bottle (and it's a handsome one), you'll find a distinct whiff of smoke on top as well as hints of sweetness and spice, which we're told comprise mostly black pepper and chili powder.
They wisely left out the notes of lighter fluid.