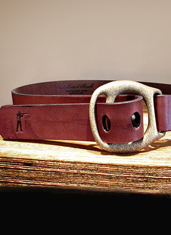 You've been busy lately.
Sailing. Windsurfing. Cliff diving.
So... you've lost a few pounds. And now you need a new belt.
Preferably one with a touch of this country's most historic wagon route.
Presenting the
Trace Carrier Belt
, an exact replica of the kind of wagon hitches used during the Oregon Trail runs of the 1800s, available now at Ball and Buck.
Okay, so you won't be sitting shotgun atop a rickety wagon, nursing Zachariah through spells of diphtheria and paying a Native American to get you across the Missouri anytime soon. Or maybe you will. We don't know what you've got planned for July.
Either way: we think you'll like that this buckle is a perfect facsimile of the kind used by rugged frontiersmen like Horace Greeley on journeys across the West. Only now, instead of using it to secure a sporty prairie schooner to a couple of trusty steeds, you'll be using it to... keep your pants up.
Having said that, it is good to know that in a pinch you could probably depend on this to help control an animal that gets a little too aggressive.
Those weekend polo matches can be quite physical.