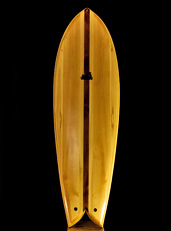 You've seen
Blue Crush
57 times.
Your closet looks like the suit rack for a Bond film.
And for too long, your loves of surfing and fine clothes have lived apart.
Well, no more.
Presenting
Grain Surfboards at Louis Exposure
, a two-day event combining your enthusiasms for fashion and the waves, going down this weekend at Fan Pier.
This is basically where Bodhi from
Point Break
would shop, for both clothes and surf tools. So imagine it: after first making your way to Louis (and perhaps an oyster-and-prosecco pit stop at Sam's upstairs), you'll head outside to the bread truck turned mobile surfboard laboratory that will be parked near the waterfront.
As you breathe in the scent of freshly sliced wood, you'll find a few employees from York, Maine–based Grain Surfboards carving and sanding away on some new surf vessels, and taking orders for boards you might want to have shipped to your door.
A couple gems you'll want to admire/purchase: the Radicle, a nearly seven-foot board designed for the waves of Hawaii; and the '69-inspired
Leaf
, a classic bodyboard that can be ridden standing up or lying down.
Kind of like... a lot of things.