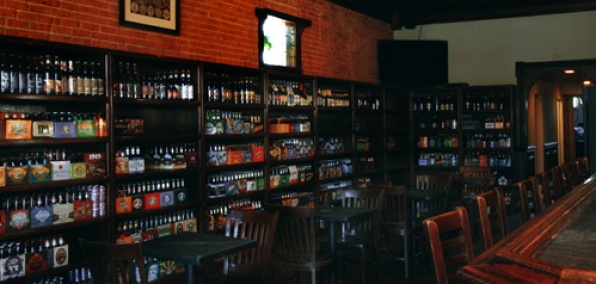 It's Monday. You're slammed—thundersticks don't inflate themselves. So we'll just get to it.

A pub with 500 bottles of beer. Oh, and you can get them to go...

Introducing The Bottle Shop, an impressive new mecca of brew, soft-opening Thursday.

You may have consulted with the guys behind this place before—they run worldbeercompany.com. Now, they're going full brick-and-mortar. Imagine the offspring of a beer shop and a pub: long oak bar, glass refrigerators and wooden shelves overflowing with bottled brews. (Well, not literally overflowing, but you get the idea.)

You'll settle into one of four brown leather chairs in the front, facing two flat-screens. You could play it safe with a Firemans #4 on tap... but that's not for you. No, you'll be ordering a bottle of anything from a Rogue Chocolate Stout or a beer from India (Kingfisher Lager) to a Maredsous Triple (the strongest brew in the place with 10% ABV) or, starting in June, their beer of the month.

And should you need to rush out—or, you know, it's last call—you can order up a couple six-packs to take with you.

Bottle opener not included.